Walk #7: Bovingdon Green to Skirmett (5.9 miles)
It's been ten months since I last set foot on The Chiltern Way – not so much A Constant Ramble, more of a stilted one – but a lot has happened in the intervening time. I contracted Covid-19, tore the meniscus in my left knee, which required surgery, launched a start-up experiential photography walks business 'Capture the Chiltern Hills' and experienced the appointment of yet another UK Prime Minister and the passing of Queen Elizabeth II.
Yet, as I set off at sunrise from the Royal Oak pub in Bovingdon Green, Marlow, the familiar calm and harmonious feeling the landscape emits returned like a long-lost friend.
Walk No. 7 of The Chiltern Way (Bovingdon Green to Hambleden) is 3.7 miles and would only take me a few hours to complete. But given the scarcity of time to indulge in these ramblings, coupled with my enforced absence, I had decided to do leg 7 and half of leg 8, totalling 5.9 miles.
Aside from my love of walking in nature, the main driver of this ramble is to discover the Chiltern Hills and explore the relationship between humanity and the environment. This in itself is challenging photographically as I am conscious not to repeat images previously captured but, being a documentary photographer, I am drawn to the repetition the walk displays, and within which lies the behaviour of humanity in relation to its surrounds.
It was barely past dawn, and the path led me into Pullingshill Wood, a Woodland Trust site containing the UK's best kept and most complete set of World War 1 training trenches. As I meandered the labyrinth of weather-worn ditches wriggling their way along the tree-lined ridge, my mind started to imagine the training and apprehension of the young men preparing for the journey to the Western Front Line in Flanders.
POP! P-POP!!  My daydream was suddenly punctuated by gunfire. POP! I looked up, nothing. POP! P-P-POP, POP! I was more than a little startled. It was as if I had stepped into a WW1 version of Secret Cinema. Then, I realised the sound was coming from a clay pigeon shoot in a neighbouring wood. I exhaled loudly, my heart returned to its normal beat and there in front of me lay this scene.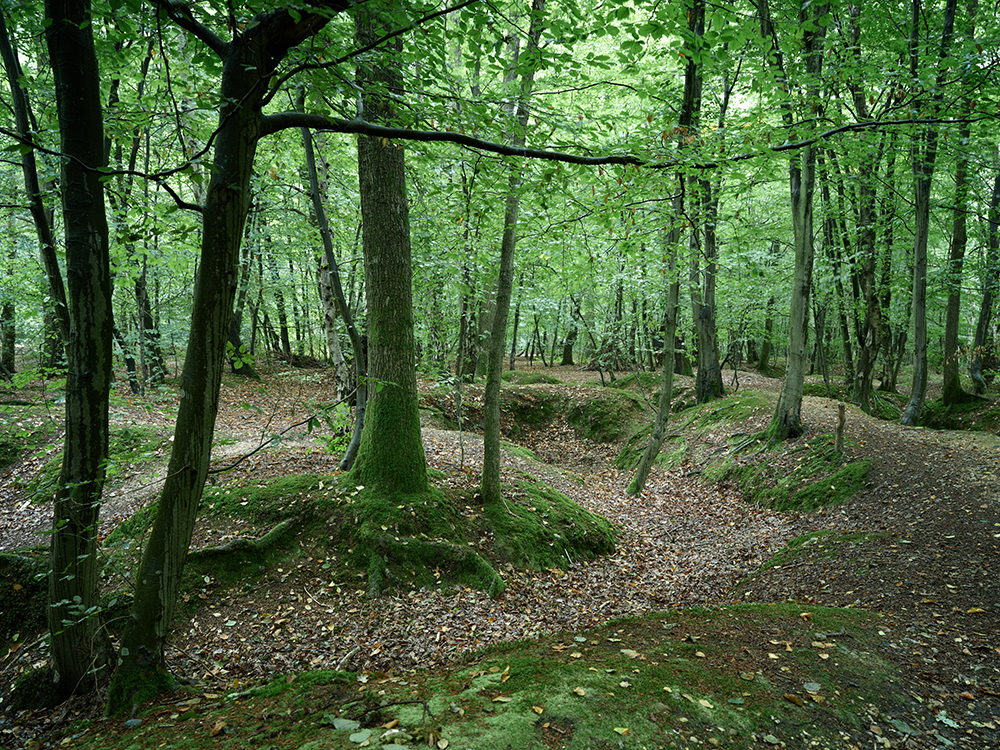 Training Trenches, Pullingshill Wood, Marlow, Buckinghamshire, UK. ©copyright Matt Writtle 2022
The gentle sound of morning runners and dog walkers was now adding to the dawn chorus of peppered shotgun. I exchanged pleasantries, although my shadow-like presence must have evoked memories of that bygone age, as one startled lady remarked, "You look camouflaged all dressed in black like that!" I replied by informing her, "I wear black to reduce reflection on my camera screen when photographing." But she had already hurriedly walked on with her cock-a-poodle.
I exited the woods into a beautifully undulating valley. Although the sound of humanity had gone and only birdsong and the cooling wind gently rustling through the leaves now filled my ears, its presence remained through the familiar vista of fences and gates that laid territorial claim on the valley.
I crossed a small lane into Homefield Wood which, like Pullingshill Wood, is owned by the Woodland Trust. In one small section, it contains a nature reserve and a Site of Special Scientific Interest, due to the chalkland grasses that provide habitat for an unusually wide variety of wildflowers and butterflies, including the rare and beautiful Chiltern Gentian.
But it was the trees that were attracting my attention and, in particular, the ghost-like pine sentries looming large on the hill beside me.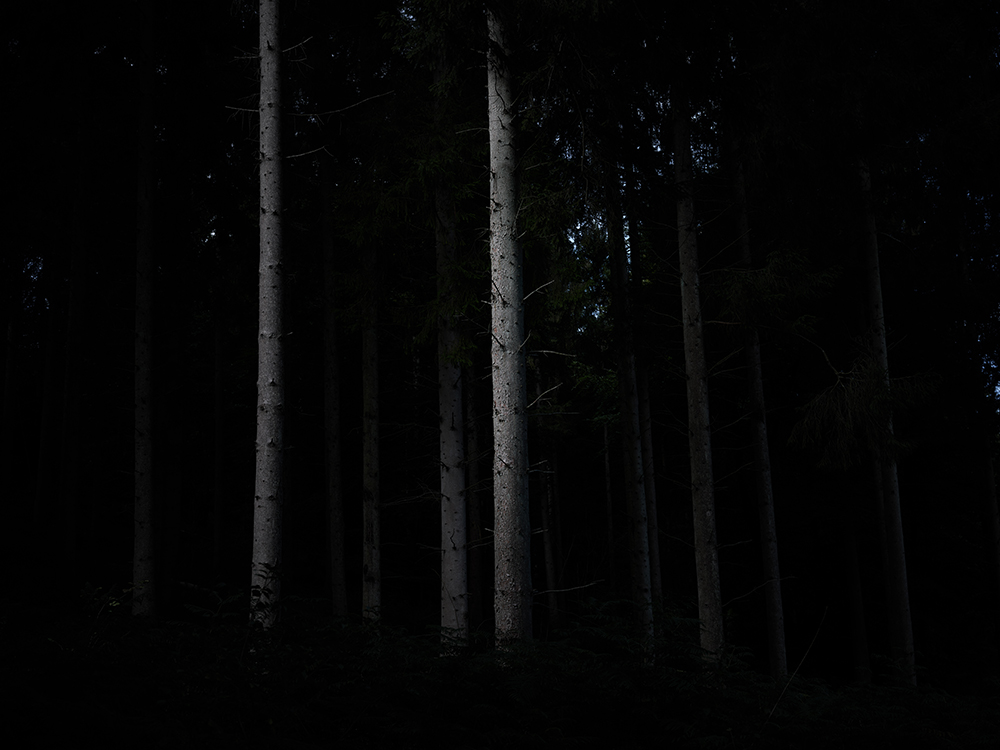 'Ghost Pine', Homefield Wood, Marlow, Buckinghamshire, UK. ©copyright Matt Writtle 2022
The path climbed steeply out of the wood to be greeted by a field full of sheep, who bolted out of the way as I neared. I was on a plateau: to my left I could make out the ridge south of Marlow where the River Thames flows, in front was a small cluster of dwellings affectionately named Rotten Row. I continued past the row and entered another wood, which began to descend quickly and steeply to the village of Hambleden.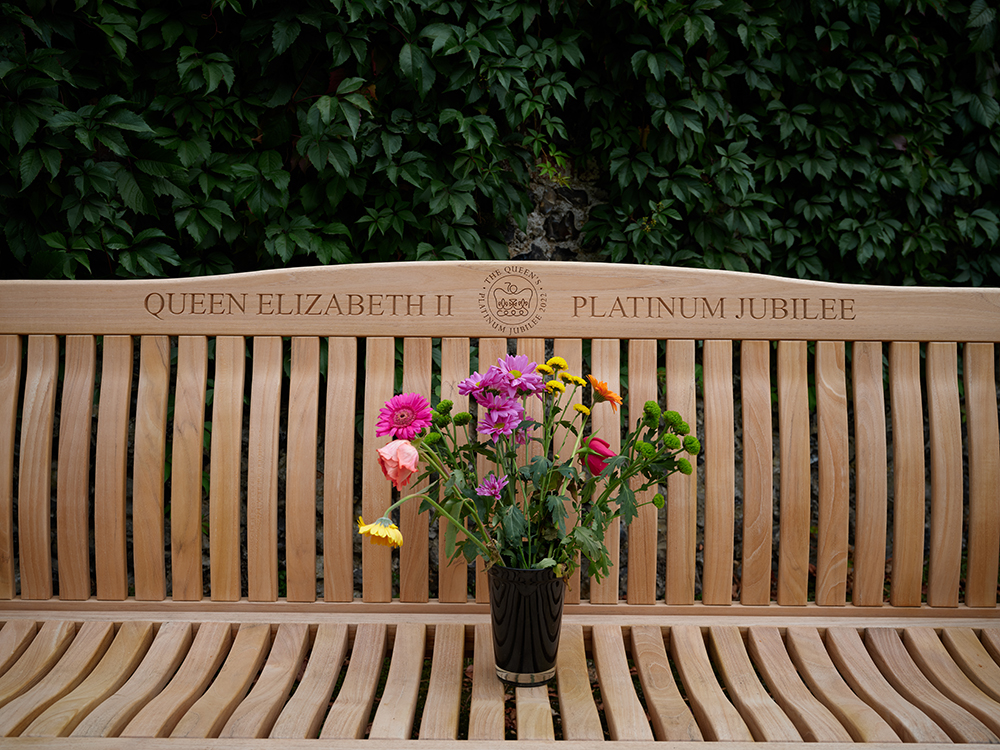 Queen Elizabeth II Platinum Jubilee bench, Hambleden, Buckinghamshire, UK. ©copyright Matt Writtle 2022
Many people who visit Hambleden do so to appreciate its unspoilt picturesque qualities, and as a lover of chalk streams, I was excited to see its beautiful Hamble Brook. However, before I did, I went for lunch at the highly acclaimed Stag and Huntsman Hotel. I had packed a lunch, but the cooling wind made me crave hot coffee. I felt cheap ordering only coffee, so had a side of chips, which arrived in a tin mug. Satiated, I went in search of Hamble Brook.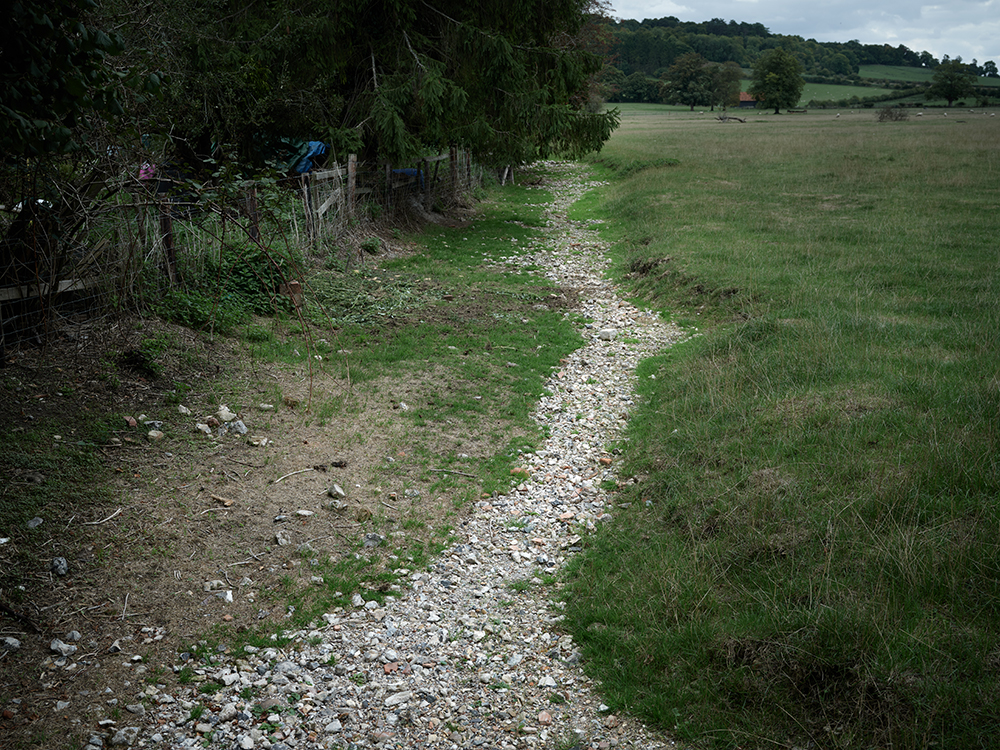 Hamble Brook, Hambleden, Buckinghamshire, UK. ©copyright Matt Writtle 2022
I have spent days considering how to express my feelings on this dried-up riverbed, but a picture is worth a thousand words. Whatever one's views on climate change and global warming, the summer of 2022 witnessed some of the most prolonged and record-breaking temperatures the UK has ever experienced. As I ramble on in this beautiful part of southern England, it is becoming ever clearer that we all need to take special care of the place we call home.
Slightly subdued, I continued towards Skirmett. The path went straight up the valley, with the course of the brook ever-present on the left. Timely, the sun appeared and lifted my spirits, and with it the charming side of humanity in the form of a welcoming face carved into a hedgerow surrounding a small cluster of houses at Pheasant's Hill.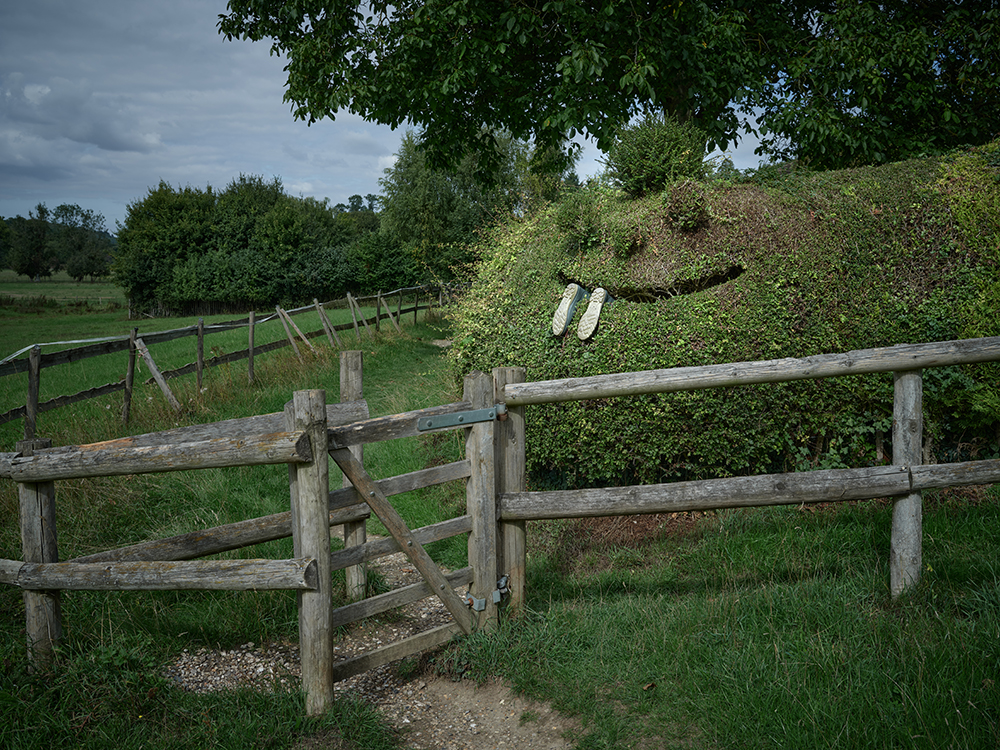 'Wellie Tooth', Pheasant's Hill, Buckinghamshire, UK. ©copyright Matt Writtle 2022
My knee was starting to feel the weight of my backpack and the miles beneath my feet, so I kept a lookout for a suitable place to rest. Before long I found a bench looking down the valley. I removed my shoes and socks and let the grass massage my feet, then reached for my sketch book.

'Field Work', Calstrope Farm, Skirmett, Buckinghamshire, UK. ©copyright Matt Writtle 2022
I normally restrict sketching to holidays but am determined to break that cycle. I don't claim to be Constable or Turner, but I do enjoy the calming discipline sketching a scene induces.
As I sketched, I started to evaluate what emotion the day's ramble had stirred in me: mortality. An uneasy and overriding sense of the passing of time and the circle of life was profound: from the lasting legacy of young men preparing for war and a gentle reminder to the passing of the Monarch, to the stark reminder of the power of nature. As I pondered these feelings, a flash of red caught my attention and there, in a field of dying wildflowers, stood a solitary poppy. I crouched down to capture this poignant moment and a familiar guttural sound grew overhead. I smiled, "It can't be!". Raising my eyes to the sky a Spitfire soared southwards.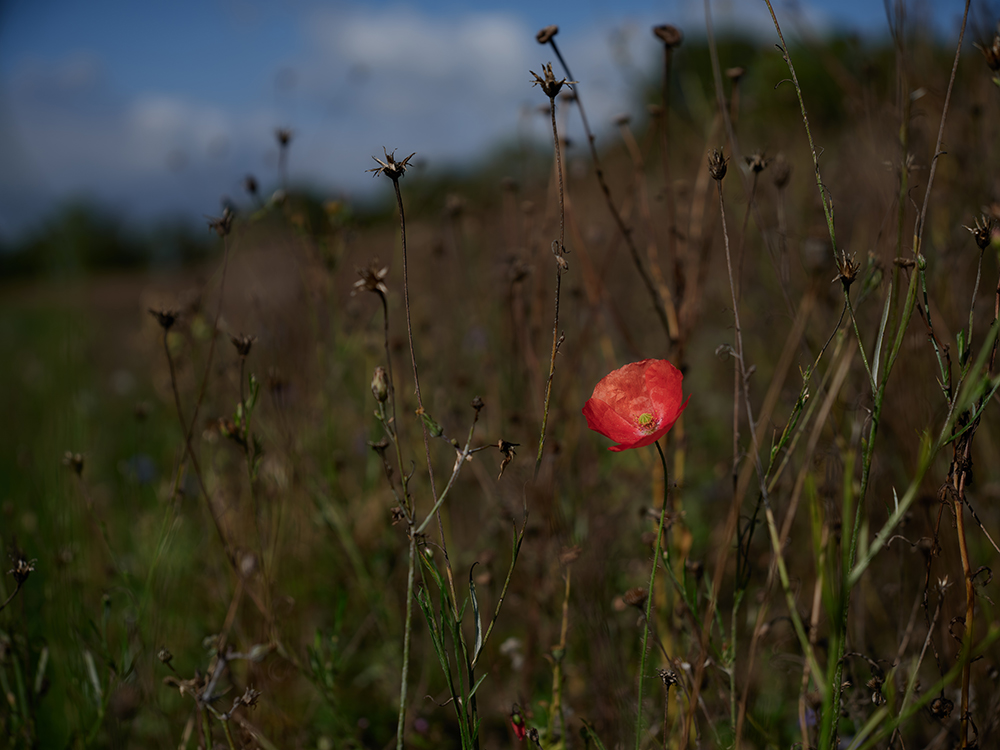 'Poppy', Skirmett, Buckinghamshire, UK. ©copyright Matt Writtle 2022
Matt Writtle is a photographer based in Chesham, Buckinghamshire, UK.
SM: @mattwrittle @capturethechilternhills – www.mattwrittle.com