The River Meadow at the Pile of Stones
Hello all. Once again, as we get used to the new normal, I hope you, your friends, family and colleagues are all safe and well.
Well, what a summer that was!
Back in March, when the world went into lockdown and uncertainty, like many I was left wondering what would happen to my work and, more specifically, my personal photography project The River Meadow at the Pile of Stones. After nearly two years of research, photography and galvanising support for an Arts Council England grant application, I was ready to apply for funding. I excitedly pressed "submit", only to discover that all funding had, quite rightly, been put on hold.

Image: Stepping Stones © Matt Writtle 2020
Over the next few months I decided, instead, to focus my attention on creating a Kickstarter campaign to publish a book of the long-running project Portraits for Posterity: Photographs of Holocaust Survivors in Great Britain, documented in my previous newsletter. In August, when that campaign went live, I received news that I had been successful in my application for National Lottery funding for The River Meadow. Obviously, I was delighted, but at the same daunted. It took me ten years to release my first book, Sunday and now I would have six weeks to release a book, an indoor exhibition and an outdoor exhibition come walking trail!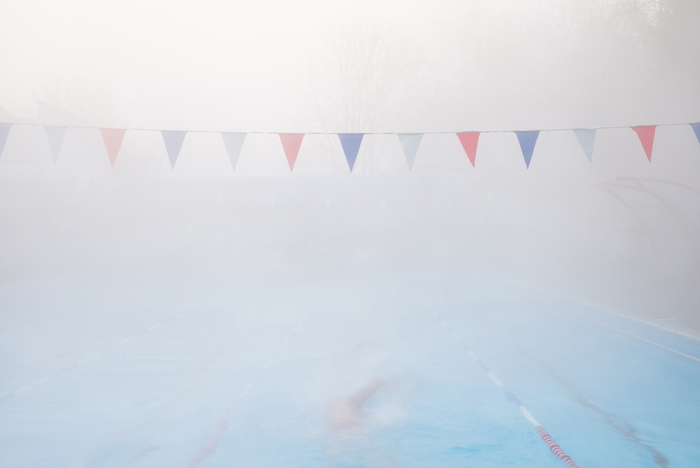 Image: Lido © Matt Writtle 2020
So what, I hear you ask, is The River Meadow about? It's a series of photographs exploring the relationship between humanity and the environment in the English hinterland. As the route of HS2 threatens to carve up vast swathes of countryside, experts fear this could severely impact the unique eco-system of England's fragile chalk streams, which are under significant threat from population increase, excessive water use and winter droughts. While climate change threatens life on a global scale, The River Meadow images focus on the Chiltern Hills town of Chesham and the areas surrounding the River Chess – a natural chalk stream whose source springs in the town. They reflect the impact, balance and transition humanity has had on the town since the first settlers arrived in 8000 BC.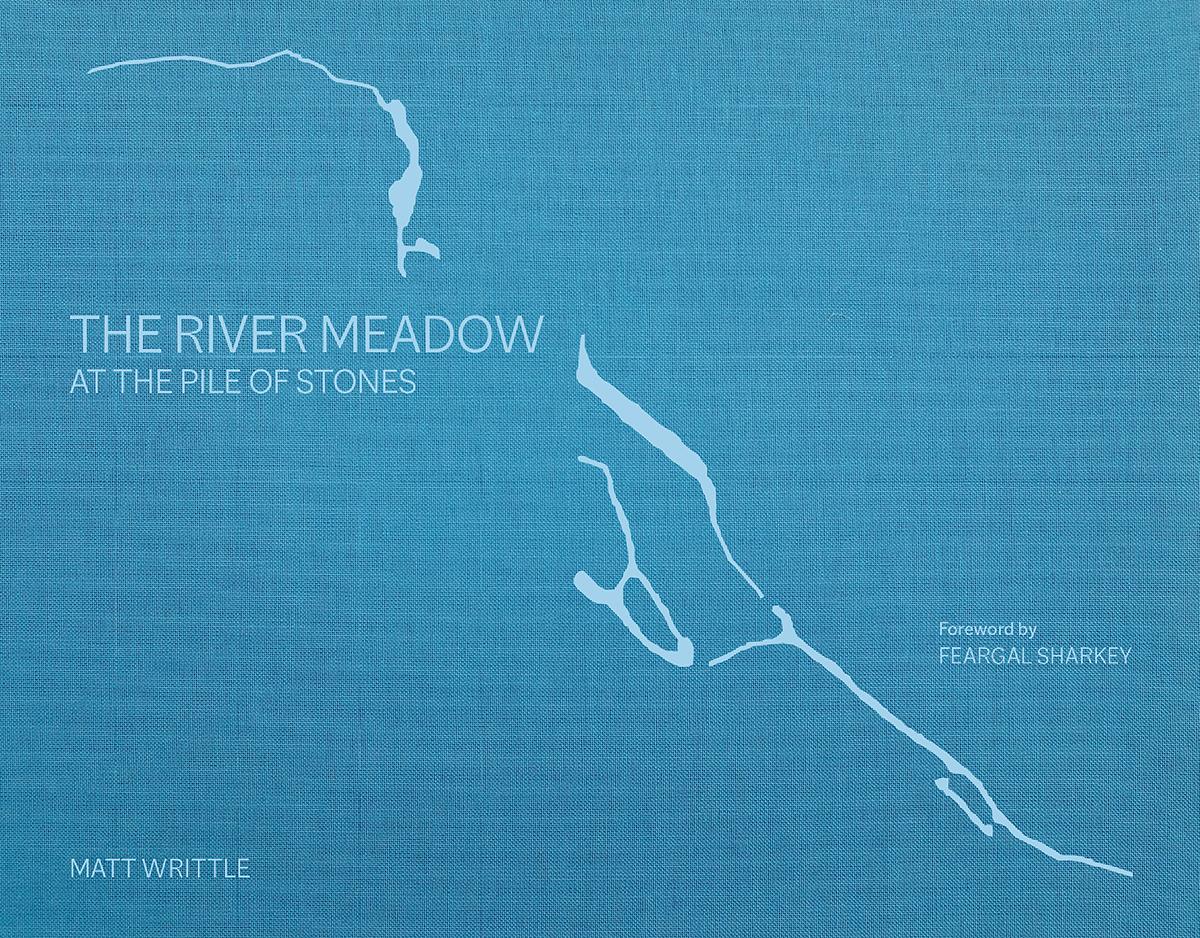 Book design by Roger Fawcett-Tang, Struktur Design Ltd
The book includes a foreword by former Undertones frontman and chalk streams campaigner Feargal Sharkey, 20 colour photographs and extracts from Tithe maps of Chesham from 1842. In addition to the book, part of Arts Council England's criteria is to encourage public engagement with art. I wanted to reach the people who wouldn't normally engage with art in their community and encourage them to think about their impact on the environment in Chesham and the Chiltern Hills. I decided to create, alongside the indoor exhibition, an outdoor exhibition come walking trail, through the town, following the course of the River Chess. Where possible, the images are installed at the location they were taken, with the remainder installed on Chesham Moor, an attractive 17-acre stretch of common land at the south-eastern end of the town, and the start of the picturesque Chess Valley Walk. This has been included in the Chiltern Walking Festival from 17th October – 1st November. You can use this to see all of the other walks included in the festival.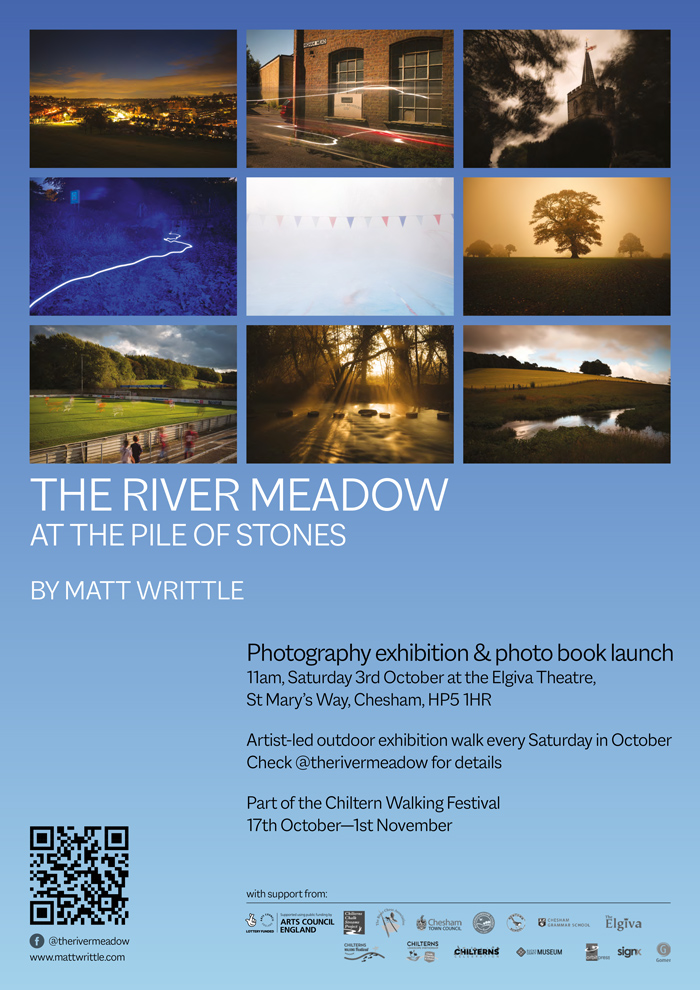 Poster design by Roger Fawcett-Tang, Struktur Design Ltd
The launch is at The Elgiva Theatre, Chesham, from 11am on Saturday 3rd October. I will be conducting artist-led walks every Saturday during October, with places limited to 12 people per guided walk, until its' close on Saturday 31st October. I have created a bespoke walking guide if you want to do it yourself, which can be downloaded here.
This project isn't solely about Chesham, it's a microcosm reflecting what's happening around the world in lives every day. My hope is that this study will educate and inspire. By illustrating the history, geography and sociology of Chesham through photography, I want people to pursue their own creative adventures, develop a sense of pride in their community and be mindful of their impact on the environment during their daily lives.